History
This kind of slippers and socks were original worn in Turkish villages in Bulgaria.
The little town Kotel (about 7200 inhabitants) with its small surronding villages was the centre of it. Kotel is also known for its carpets and in the town there is a special handicraft museum.
In the beginning the slippers and socks were used during winter together with shoes and the traditional clothes.
Times have changed, and nowadays they are mostly worn at special occations, such as festivals or weddings.



Change language
Türkçe
Svenska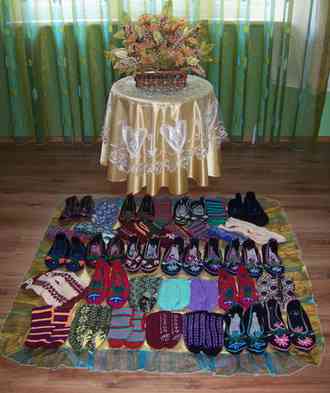 These slippers are made by a Turkish family that lived in Bulgaria for many years, but have moved back to their native country. They are now living in Lüleburgaz in the European parts of Turkey.
All slippers and socks are for sale.
Click on the picture to take a closer look at them.
If you are interested in buying anything, or if you have any questions, please send a mail or leave a message on
handicraft_slippers@yahoo.com
http://handicraftslippers.blogspot.com/
Terms and conditions and how to pay